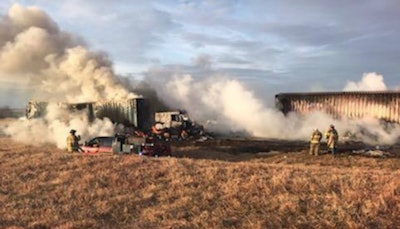 A 61-year-old Texas driver died Monday, Dec. 3, when his truck struck another tractor-trailer stopped on the shoulder of I-35 near Wynnewood, Oklahoma.
KTEN TV reports a truck driven by 61-year-old Carlos A. Escoto was headed northbound on I-35 when he struck the back of a truck stopped on the shoulder near the intersection with State Highway 29. Both trucks became engulfed in flames.
Escoto, from Garland, Texas, was pronounced dead at the scene.
The driver of the parked truck, Christopher J. McCaleb, 24, of Mesquite Texas, was treated and released from a nearby hospital.
The cause of the crash, which occurred at about 7:30 a.m. near mile marker 68, is under investigation.