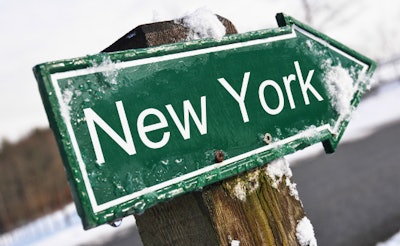 The State of New York has not been issuing citations to carriers and drivers for not using an electronic logging device, the state's supreme court confirmed in a decision issued on New Year's Eve. Furthermore, citations for non-compliance with the ELD mandate, which took effect in December 2017, will not be issued until the state adopts the U.S. DOT's ELD rule into its own regulations, the court said.
The ruling applies to both interstate and intrastate carriers, said an official from the New York Department of Transportation.
However, inspectors may still request to see an electronic logging device to verify hours of service compliance, though they cannot download or transmit any data from the device. Also, FMCSA can still hold carriers and drivers accountable for lack of compliance with the ELD mandate during compliance reviews and safety audits, says Collin Mooney, director of the Commercial Vehicle Safety Alliance.
According to the court's opinion, filed Dec. 31 by Judge Richard M. Platkin of the state's Albany-based Supreme Court, state enforcers have not been issuing citations to this point and thereby haven't been enforcing the mandate. The decision came as part of an ongoing lawsuit filed by the Owner-Operator Independent Drivers Association, who claimed the state was enforcing the mandate despite not having adopted the federal ELD rule into state code.
The court disagreed with OOIDA's assertion that the state was enforcing the mandate, instead confirming that it hadn't — and wouldn't, pending the state's adoption of the ELD rule.
FMCSA requires that states adopt federal safety rules both for the purpose of uniformity and so state enforcement personnel can enforce the regs.