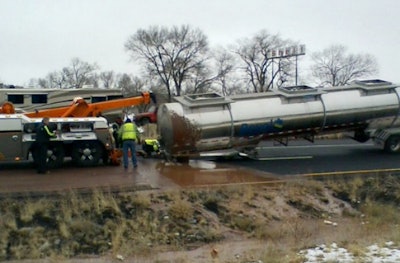 A tanker hauling 3,500 gallons of liquid chocolate overturned, spilling its load on westbound Interstate 40 near Flagstaff, Arizona Monday, Jan. 14.
The chocolate in the tanker was being held at a temperature of 120 degrees.
No cause for the mishap was given, nor was the condtion of the driver.
"This will be a sweet cleanup," Tweeted the Arizona Department of Public Safety.
About a month ago, firefighters in a German community had to remove a ton of chocolate that spilled and then solidified on a street.
There is a river of chocolate blocking/flowing in the westbound lanes of I-40 at milepost 211, east of Flagstaff. A tanker truck carrying 40-thousand gallons of liquid chocolate rolled over. This will be a sweet cleanup! pic.twitter.com/G03eVdNQZD

— Dept. Public Safety (@Arizona_DPS) January 14, 2019
Yum! Melted chocolate covers the streets in a German town after a chocolate factory leak.

Read more on the story via @business https://t.co/nhSHrrIDQZ pic.twitter.com/foqwqVIoqV

— TicToc by Bloomberg (@tictoc) December 12, 2018