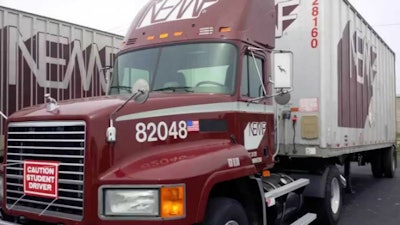 New England Motor Freight, a major less-than-truckload carrier with heavy operations in the Northeast announced Tuesday it will cease operations and file for Chapter 11 bankruptcy. It's 10 subsidiary companies will also close.
The Elizabeth, New Jersey-based company operated nearly 2,000 power units and employed more than 1,700 drivers. NEMF says it posted losses the last two years. The Wall Street Journal reported Tuesday the company owes tens of millions of dollars to creditors and was weighed down by payments to union pension funds.
Vincent Colistra, a senior managing director with NEMF advisor Phoenix Management, cites "two years of losses" and "continuing and unsustainable rises in overhead as well as a severe industry shortage of drivers" as reasons for the company's move to file for bankruptcy and close its doors.
In a letter to employees Monday, NEMF President and CEO Thomas Connery wrote:
"It is with a heavy heart that I am writing this letter to inform you of our intent to undertake a wind-down and liquidation of our company, New England Motor Freight.
"The costs of running an asset-based trucking company have soared; with labor and benefits consuming an ever large portion of revenue. Add in the high cost of equipment, a severe industry shortage of drivers, ever increasing regulations and tolls, technology investments and the overall risk environment of our business."
NEMF had announced a 5.4 percent rate increase just a week earlier.
A history of the company on its website says "In 1977, the Chairman of the Board, Myron P. Shevell, bought New England Motor Freight, a troubled Northeast regional less-than-truckload (LTL) carrier, from Farmland Dairies. Under his leadership, the company has grown from 55 units and five terminals to more than 10,000 pieces of equipment and 40 terminals throughout the Northeast, Midwest and Puerto Rico and is now the region's fastest-growing family-owned LTL carrier. NEMF also reaches 80 percent of the U.S. population through service partnerships."