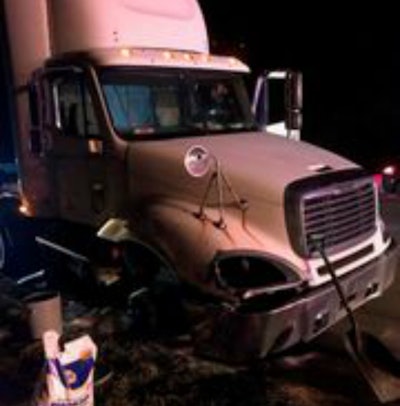 A truck driver was arrested Wednesday night after leading police on a three-state chase.
The chase began when a Cincinnati police officer attempted to stop a truck driven by a man they identified as Tony Henson. According to a statement from the Dearborn (Indiana) County Sheriff's Department, Henson refused to stop and attempted to ram the police car.
Henson, who police said is from Cynthiana, Ohio, then headed south on Interstate 471 and then onto Interstate 275 and into Kentucky with police in pursuit, according to the statement. Police deployed tire-deflation devices, which caused two front tires of Henson's bobtail to deflate and come off the rims. Still driving, Henson crossed the Carroll Cropper Bridge into Indiana and eventually stopped and surrendered to police.
According to the sheriff's department statement, police found a digital scale, metal bottle caps containing white residue, a baggie containing an unidentified white powder, seven hypodermic needles, and two glass pipes in the truck.
Henson was arrested and charged with resisting law enforcement and possessing drug paraphernalia in Indiana. He could also be charged in Ohio and Kentucky.