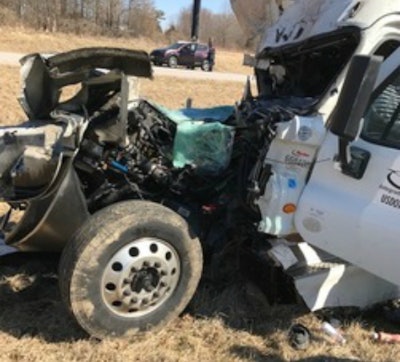 Two separate accidents on Interstate 70 in Indiana over the weekend involved four trucks, five other vehicles and led to the deaths of two people, one in each incident.
One person died following the collision of two tractor-trailers on I-70 Saturday.
The Indiana State Police are investigating the crash that occurred at about 11:53 a.m. on westbound I-70 near mile marker 17.
A statement from the troopers says Joe L. Robinson Jr., 49, of Indianapolis was driving a 2017 Freightliner tractor-trailer when he dropped a sandwich and leaned over to pick it up, taking his eyes off the roadway. He said once he looked back to the road, he immediately observed slowed or stopped traffic in front of him. Robinson stated he attempted to avoid a collision with another semi tractor-trailer by steering hard to the left.
Troopers say Robinson was unable to avoid a collision, and his truck struck a 2018 Freightliner driven by Michael A. Workman, 30, of Glendale, Arizona, causing its fuel tank to burst into flames. Robinson's tractor-trailer continued to travel towards the south side of I-70, eventually going into the median and coming to a stop, according to the troopers.
A passenger in the sleeper berth of Robinson's truck, April L. Robinson, 45, of Indianapolis, was pronounced dead at the scene by the Clay County Coroner's Office.
Charles T. Tolbert, 52 of Yuma, Arizona, was in the sleeper berth of Workman's truck at the time of the crash and received neck and back injuries. He was taken to a hospital in Indianapolis with what troopers say are non-life threatening injuries.
The drivers of both tractor-trailers were not injured.
In Saturday's other mishap, the troopers say they are investigating a chain reaction crash between two tractor-trailers and five passenger vehicles. The crash, which occurred Saturday on I-70 westbound at the 11 mile marker, claimed the life of a Reelsville, Indiana man.
Preliminary investigation by the troopers indicates that at about 9:57 a.m., a 2018 Peterbilt tractor-trailer driven by Pierre St. Jean, 70, of Saint-Charles-Borromee, Quebec, Canada was traveling westbound on I-70 in the passing lane near the 11 mile marker. St. Jean failed to recognize that traffic had slowed or stopped in the area and struck a 2008 GMC Yukon, pulling a recreational trailer, in the rear, according to police.
St. Jean's truck continued westbound in the passing lane, striking a Buick, driven by Morgan Johnson, 20, of Reelsville, Indiana. The force of this collision pushed Morgan's vehicle into the back of a stopped 2013 Volvo tractor-trailer driven by Douglas K. Baumgartner, 61, of Melbourne, Florida. Upon impact with the stopped trailer, Morgan's vehicle immediately burst into flames, according to police. He was pronounced dead at the scene.
Three other vehicles were involved in the accident, which sent three individuals to Terre Haute Regional Hospital with non-life-threatening injuries.
The troopers' investigation continues.