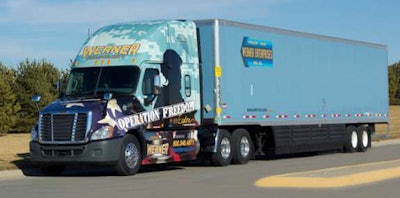 Members of Werner Enterprises' leadership team will begin visiting the fleet's terminals nationwide as part of its annual Driver Appreciation Spring Celebration.
The event runs April 9 through May 3. Werner representatives will visit 12 terminals throughout the country, participating in driver appreciation ceremonies and conducting discussions. Gifts will be given away during the event in addition to complimentary meals for drivers.
This will be the fleet's fifth annual driver celebration event, which it conducts in addition to its National Truck Driver Appreciation Week festivities in the fall.
The dates and locations for the celebration event:
April 9: Fontana, California and Phoenix, Arizona
April 10: Laredo and Dallas, Texas
April 15: Joliet, Illinois; Springfield, Ohio; and Allentown, Pennsylvania
April 16: Atlanta, Georgia, and Lakeland, Florida
April 17: Brownstown, Michigan
April 26: Omaha, Nebraska
May 3: Denver, Colorado