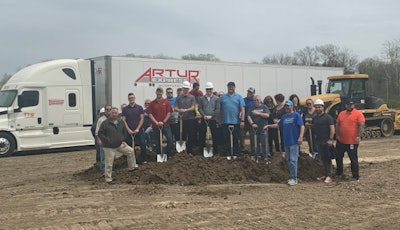 St. Louis-based Artur Express, broke ground for a new headquarters in Hazleton, Missouri recently. It's expected to be completed in October.
The new two-story, 73,820-square-foot terminal features an entire floor dedicated to drivers with a fitness center, multiple training rooms, showers, free laundry, a café style area, and a media room. The second story houses conference rooms, collaboration areas, a game room, and a break/kitchen area for employees.
The cost of the new facility is reported to be $11.9 million.
"Every idea we got for this new headquarters came directly from our employees and our drivers," said Vice President of Operations Kristi Randall. "They put in a lot of hours each week for us and we truly wanted this to be a place that felt like home. It's been so special for all of us to be a part of something from the ground up."
Artur Express President Artur Wagrodzki said, "To finally be able to build this brand-new headquarters is very exciting. We've added so many employees and drivers over the last few years and with over 73,000 square feet of office and shop space in the new facility, we can't wait to continue our growth and truly dominate in the industry."
Founded in 1998, Artur Express, Inc. is a full-service, nationwide transportation and logistics company with terminals in California, Pennsylvania, and Florida. A recent St. Louis Business Journal article says the company plans to nearly double its workforce by creating 308 new jobs by December 2023. Most of those jobs will be for drivers.