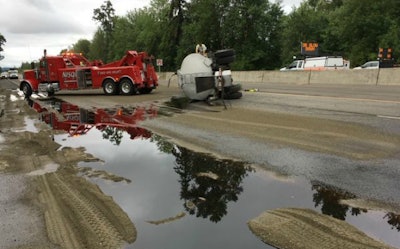 The driver of a tanker that spilled some 3,000 gallons of waste motor oil on Interstate 5 Wednesday, July 3, in Washington has been charged with driving while intoxicated and wheels off the roadway.
The northbound tanker rolled on its side near Centralia, Washington at about 4:30 a.m. The rollover snarled traffic for most of the day and required a hazmat cleanup.
The truck driver, Jeffery T. Anderson, was not injured. The Daily News of Longview, Washington reports the truck driven by Anderson, 53, left the roadway to the right and struck a guardrail, according to WSP. He then crossed all three lanes to the left, causing the trailer to roll and come to a rest blocking the left lane.
All northbound lanes of I-5 were closed until about 12:30 p.m. on Wednesday. All lanes were reopened by 6:30 p.m.
Centralia is located south of Olympia.