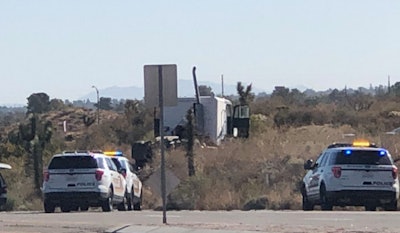 The driver of a white, COE bobtail truck led police on a violent chase in southern California Sunday, Sept. 29, that ended with sheriff's deputies shooting and killing the suspect.
Numerous reports on the incident say it began after 9:30 p.m. Sunday when a person called 911 to report a suspicious vehicle at a residence in Victor Valley. The caller said they were following the white semi-truck.
Deputies from the San Bernardino County Sheriff's Department arrived and attempted to pull over the truck. When the driver refused to stop, a chase, which included a sherrif's department helicopter, began on Highway 247.
Shots were fired by the still unidentified suspect and police. Spike strips were laid twice in an effort to stop the truck but failed. At one point, the suspect drove the truck into asherrif's patrol car and shot at deputies.
The truck eventually left the roadway of U.S. 62 in Yucca Valley. A gunfight ensued and the suspect died at the scene.