Truckers in Michigan will be slow rolling Friday, Oct. 4 in hopes of taking their concerns to state government, the press and the public. The trucker protest is also a show of solidarity with truckers participating in an event in Washington, D.C. this weekend.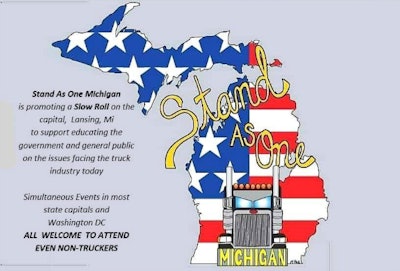 Marty Passenger, one of the organizers of the Michigan Slow Roll, says the event is a way to support drivers who will gather for 10-4 on D.C. That event is billed as a truck show to be held on the National Mall beginning Thursday, Oct. 3 and ending the morning of Saturday, Oct. 5.
Events of the Michigan Slow Roll include:
meeting at NuVu Fuels in Ionia at 8 a.m. on Friday
meet with Josh Neyhart, policy advisor to the governor
slow roll to Ionia scale house and talk to news media and state police
slow roll to Flying J in Lansing, circle the lot to make other drivers aware
drive to the capitol building for photos
stop at the Martin Luther King Parking Lot to meet media
return to Ionia
Passenger said she and others intend to tell the governor's representative and media about truckers' concerns for safety, training, hours of service, taxes, autonomous trucks, maintenance costs, and freight rates.
"We want to show the public how they need to give us room and stop cutting us off," said Passenger, a leased independent contractor. "Let them know what the truck driving life is like and how the public is affected by trucks and the changes on the horizon, that drivers are professional."