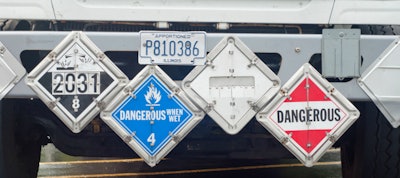 The Federal Motor Carrier Safety Administration has finalized two rulemakings that have been in place since 2003 and 2005 requiring drivers to pass a background check conducted by the Department of Homeland Security in order to obtain or renew a hazmat endorsement on their commercial driver's license.
The final rule was published Tuesday, Oct. 1 and takes effect Nov. 1. It includes provisions that state drivers with a valid transportation security card or Transportation Worker Identification Card (TWIC) are exempt from the background check.
An interim final rule published in 2003 amended the Federal Motor Carrier Safety Regulations to prohibit states from issuing, renewing, transferring or upgrading a CDL with a hazmat endorsement unless the Transportation Security Administration (TSA) first conducted a background check and determined the applicant did not pose a security risk.
A 2005 interim final rule reduced the amount of notice states must provide drivers that a background check will be performed when they renew their hazmat endorsement. Under this rule, states must notify drivers at least 180 days (6 months) before their CDL or hazmat endorsement expires informing them they must pass a background check.
The finalization of these interim final rules has no bearing on current drivers or carriers, as the rules have been in place since 2003 and 2005, respectively.