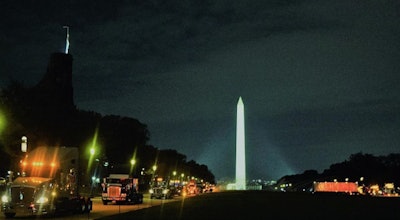 Friday, Oct. 4, was the day a number of truckers held what amounted to a cross between a truck show and charm offensive in Washington, D.C. and our Overdrive colleague Senior Editor Todd Dills was there.
Dills says about 40 bobtail trucks took up their places along the National Mall for the second annual That's A Big 10-4 on D.C. Truckers met with members of the public, answering questions, showing off their trucks and talking about what they do for a living.
He adds, "The second year builds on the goals of the event last year — with greater emphasis on simply providing a welcoming atmosphere for D.C. locals and tourists to engage with truck owners, learn about the business and cultures of trucking, and understand the nature of the many issues drivers contend with."
You can read Todd's complete coverage and see photos of the event here.