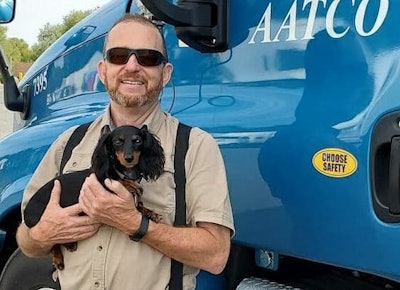 AATCO driver Clyde Nelson is being recognized for his efforts to resuscitate a collapsed colleague after she suffered an apparent cardiac arrest. He has been named a Highway Angel by the Truckload Carriers Association.
Nelson was walking across the AATCO parking lot one morning in July when he saw a woman, a colleague of his, lying on the grass. He checked on her and found her unconscious with her eyes rolled back in her head. Another person rushed over to help and found a pulse but determined the woman wasn't breathing. A third person called 911 and the dispatcher asked Nelson if he knew how to do CPR. He'd learned it 40 years ago during Army basic training but didn't know how to do chest compressions, so the dispatcher talked him through it while they waited for help to arrive. When paramedics arrived they had to use the defibrillator four times to get the woman's heart started.
Nelson visited the woman in the hospital a couple of days later and said he was glad she'll be able to return to work soon. He wants to become certified in CPR and hopes his experience will encourage others to step up to help others.
"If I run across that situation again, I want to have the confidence to say I know how to help," Nelson said.
TCA presented Nelson with a Highway Angel certificate, patch, lapel pin and truck decals.