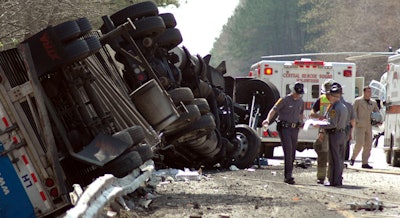 The number of fatalities in crashes involving large trucks increased slightly from 2017 to 2018 in 2018 with 46 more fatalities, according to statistics released Tuesday, Oct. 22, by the National Highway Traffic Safety Administration.
According to NHTSA, there were 4,951 people killed in crashes involving large trucks, up from 4,905 in 2017 (a 0.9% increase). There were 885 large truck occupants killed in crashes, along with 4,066 occupants of other vehicles and non-occupants (pedestrians and cyclists). The full report on 2018 fatal crashes can be found here.
NHTSA defines a large truck as vehicles with gross vehicle weight ratings above 10,000 pounds, so medium- and heavy-duty pickups, as well as commercial trucks, are included in the statistics.
The agency notes that fatalities overall decreased from 2017 to 2018 in all segments except crashes involving large trucks and nonoccupants.
Overall, there were 36,560 people killed on U.S. highways in 2018, a 2.4% decrease from 2017 representing a drop of 913 fatalities year-over-year. These numbers decreased despite a slight increase (0.3%) in vehicle miles traveled in the same time period.
In addition to the 2018 numbers, NHTSA also released initial estimates for the first half of 2019, which suggest the trend of decreasing fatalities may continue. The estimated number of fatalities for 2019's first six months is down 3.4% from the same period in 2018.