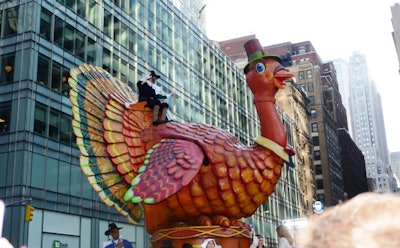 Strong consumer spending and lower gas prices mean professional truck drivers will share the interstates with millions of Thanksgiving travelers next week, making Wednesday, Nov. 27, the busiest of all days.
That's the holiday travel forecast from AAA, which says more than 55 million travelers plan trips of 50 miles or more away from home for Thanksgiving, most of them by car. That means Thanksgiving 2019 will have the second-highest travel volume since AAA began tracking it in 2000, trailing only the record set in 2005.
AAA says 1.6 million more people will travel next week compared with last year, a 2.9% increase. The vast majority of those holiday travelers — some 49.3 million travelers — will drive to their destinations. INRIX, a transportation analytics company, expects Wednesday afternoon, Nov. 27, to be the worst travel period nationally, with trips taking as much at four times longer than normal in major metropolitan areas.
Here are the projected worst travel times for Wednesday:
| | | |
| --- | --- | --- |
| Metro Area | Worst Time On Nov. 27 | Delay Multiplier |
| Atlanta | 5:30-7:30 PM | 3.5x |
| Los Angeles | 5:00-7:00 PM | 3.5x |
| New York | 5:15-7:15 PM | 3.5x |
| Boston | 4:30-6:30 PM | 3.4x |
| Houston | 5:00-7:00 PM | 3.4x |
| San Francisco | 2:00-4:00 PM | 3.2x |
| Washington DC | 3:00-5:00 PM | 2.8x |
| Seattle | 4:00-6:00 PM | 2.7x |
| Detroit | 5:15-7:15 PM | 2.6x |
| Chicago | 4:15-6:15 PM | 2.4x |
Source: INRIX