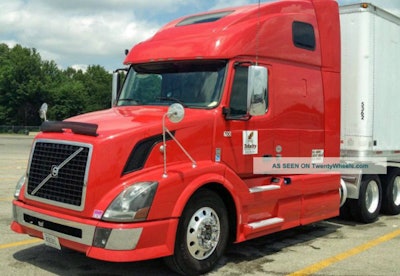 UPDATE: The body of a trucker missing since late last month was found at an Ohio Turnpike rest area Friday, afternoon, Dec. 13. Ohio State Highway Patrol troopers found David C. Day in the sleeper berth of his truck at the Indian Meadows Service Plaza in Williams County. Police say there were no signs of foul play were immediately apparent, and their investigation continues.
___
Our original story:
A northern Illinois trucking company is looking for one of its drivers.
Al-Amin Brothers Transportation of Crete, Illinois is trying to locate 63-year-old David C. Day, whose whereabouts have been unknown since he refueled Nov. 27 in Irving, New York.
He is said to be 5′ 9″ tall, weighs 178 pounds, has hazel eyes and brow and salt and pepper hair.
He is driving a 2011 dark red Volvo VNL64T Vin# 299508, with Illinois plate P1006352. It has a blue Al-Amin Brothers Transportation sign and is truck #1060.
He was hauling a Great Dane reefer van #5329, Vin# 704222 and Illinois plate 562584ST. The name Al-Amin Brothers Transportation is on the rear doors.
His load was supposed to be delivered in Sterling, Illinois Nov. 28. Day more than likely used US 20 to avoid tolls, according to the company. It also said his ELD has been disconnected. Day's phone is said to have been pinged near Toledo, Ohio Nov. 3.
If you see the driver or his truck, contact Missing Truck Driver Alert Network and Tom Oswald at toswald@al-aminbros.com and 911 for a well-being check. A missing person report (054167-19) was filed with Toledo PD. ‭(419) 245-3340‬.