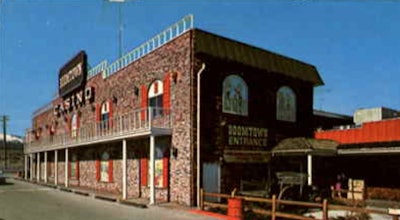 The man who turned a modest Nevada truck stop into a hotel and casino and enjoyed a long and successful career in politics has died. Robert Alan Cashell Sr. died Feb. 11 at the age of 81.
Cashell grew up in the West Texas oil fields, graduated from Stephen F. Austin State University and served two years in the Air Force before eventually joining Humble Oil, a predecessor to Exxon. His obituary in the Longview News-Journal said, "Cashell drove trucks and learned the business from the ground up about gasoline grades, service-station products and buying or leasing stations."
He eventually moved to Reno, Nevada and bought Bill & Effie's Café & Truck Stop in Verdi, Nevada, which was located next to what would become Interstate 80. His obituary said Cashell "put in exhausting hours managing the truck stop not only hiring and managing employees but pouring coffee and pumping gas on occasion. He aimed to grow the business as large as possible, despite the challenge of finding investment capital for his big schemes." The truck stop would later become the Boomtown Casino and Hotel.
While Cashell eventually sold Boomtown, he and his son created the Alamo Casino & Travel Center, another truck stop and casino in Sparks, Utah. The father and son's company would eventually own Topaz Lodge, the Winners Inn & Casino, Pete's Gambling Hall, and Sundance Casino.
The elder Cashell entered local politics in 2002, becoming mayor of Reno, a post he won two more times. He also served as lieutenant governor of Nevada and on numerous civic boards.
In his memoir Call Me Mayor, or Anything You Like: My Life as a Lone Star Son in the Silver State, Cashell wrote: "If you practice what your mommy and daddy taught you between ages one and twelve — meaning, speaking politely ('Yes, ma'am,' 'No, ma'am'), being honest, treating people the way you want to be treated — hell, you can get along real well in this world. If you don't learn how to treat people the way you want to be treated — if you don't practice the Golden Rule, and if you are dishonest — well, it doesn't take long for people to catch on. Then you'll have a reputation for being an exploiter and a liar."
A celebration of Cashell's life will be held at 1:30 p.m. Thursday, Feb. 20 at St. Rose of Lima Catholic Church, 100 Bishop Manogue Drive in Reno, with a reception following at the Downtown Reno Ballroom, located at 401 N. Center St.