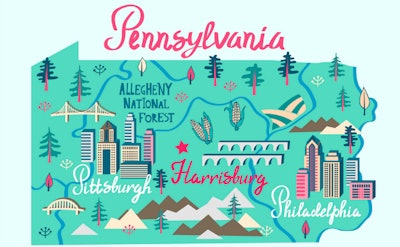 The Pennsylvania Department of Transportation appears to have changed its mind about closing rest area facilities on interstate highways and not allowing trucks to park in them.
Pennsylvania Motor Truck Association President Kevin Stewart today wrote:
"I just had a call with George McCauley, Deputy Secretary for PennDOT. It is PennDOT's plan to begin opening rest areas for truck-only parking over the next day or two. They are unsure whether that will include restroom and vending or keep the buildings closed and utilize port-a-potties or offer no services outside of parking. They are looking at the high volume locations first. We continue to stress the utmost importance rest areas play in maintaining driver health and safety and will continue to press the Department to open these facilities as expeditiously as possible."
PennDOT earlier this week it was closing interstate highways' rest areas and not allowing access to parking at them. At the same time, the Pennsylvania Turnpike Authority closed its rest area but was allowing parking and had installed porta-potties.
There's also a guy near Philadelphia who is opening his company's parking lot to free trucker parking. Read about it here.
We have contacted the trucking association and PennDOT for more details and will update this story when more details are available.