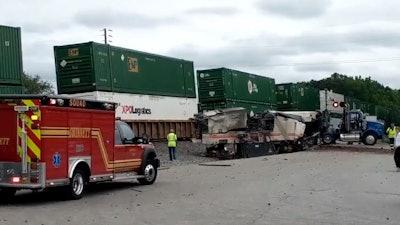 More than 20 cars were derailed at about 9:45 EDT this morning when a freight train collided with a tractor-trailer that had become stranded on railroad tracks in Duluth, Georgia, about 30 miles northeast of Atlanta.
The Atlanta Journal-Constitution reports three people — two train conductors and the truck driver — were taken to the hospital for what are said to be minor injuries.
Two of the cars that derailed were carrying hazardous materials, but authorities say there was no spill.
The truck's driver was not identified. A local TV station said the truck was hauling several trailers.
TRAIN DERAILMENT | Officers and firefighters are out working this train derailment off Buford Hwy just North of Pleasant Hill Rd. Major traffic delays. Please use alternate routes. No injuries reported. pic.twitter.com/5ajQ5Oau9a

— Duluth Police Dept (@DuluthGAPolice) June 17, 2020