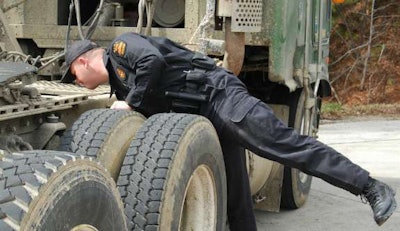 The Commercial Vehicle Safety Alliance's annual Brake Safety Week begins Sunday, Aug. 23, and runs through Aug.29.
Enforcement officials across the U.S. and Canada will inspect commercial motor vehicles throughout the week. Vehicles found to have critical out-of-service brake violations, or other violations will be restricted from traveling until those violations are corrected. Vehicles that pass eligible inspections may receive a passed-inspection CVSA decal.
During last year's International Roadcheck inspection and enforcement initiative, brake system and brake adjustment violations accounted for 45.1% of all out-of-service conditions. That's more than any other vehicle violation category. And during last year's Brake Safety Week, 13.5% of the commercial motor vehicles inspected had brake-related vehicle inspection item violations and were placed out of service.
Checking brake system components is always part of the roadside inspection process. However, inspectors will be paying special attention to brake hoses/tubing during this year's Brake Safety Week to highlight the importance of those components to vehicle mechanical fitness and safety.