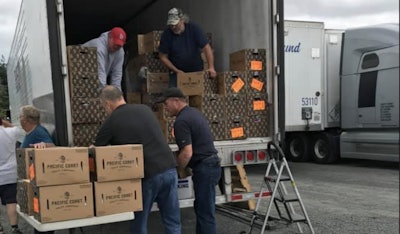 Lund Trucking Co. is a smallish, family-owned truckload operation situated in the modest community of Chehalis, Washington.
However, the impact the company has had on a significant portion of the city's population is nothing short of monumental. In fact, for many folks in need during this year of COVID-19, economic upheaval, and unemployment, the volunteer efforts of the company and its some 55 drivers have helped keep their families fed.
Jeff Lund is the CEO of the trucking company his father, a retired Army Ranger, founded in 1994. He said what started out as the company lending some mechanical assistance to a local food bank blossomed into a program that today voluntarily distributes thousands of boxes of fresh food to people in need. And, Lund and his drivers — all owner/operators — and other employees couldn't be happier.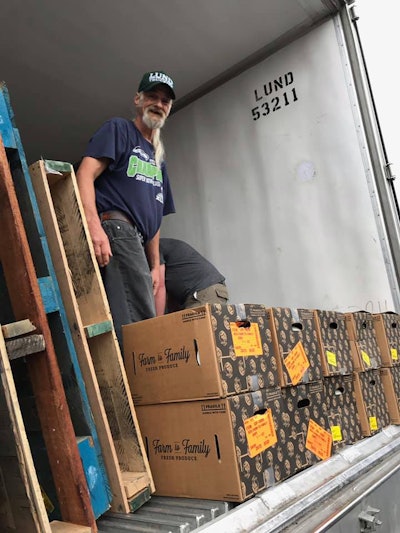 After a Lund technician helped repair a truck from God's Portion, a local food bank in nearby Centralia, Lund Trucking donated two reefer trailers to the nonprofit. The food bank and the trucking company then joined forces in April to distribute boxes of locally grown food to those in need on a weekly basis. Lund said people who might not be comfortable visiting a food bank, have no problem coming to the trucking company's yard.
For example, about a week ago, dozens of cars lined up at Lund Trucking's yard. As they pulled in, drivers stayed in their vehicles as Lund drivers and other employees and some volunteers loaded boxes of food in the trunks. In an hour and half or so, Lund says his folks distributed a full trailer's worth of food.
"They pull through our yard trunks open," said Lund, who started out as a driver for his father's company before moving into the office. "We throw in as many boxes as they ask for, if they have two families, four families because what we find is a lot of times the people picking up the food are not the ones using it. They're giving it to an elderly person they know that can't leave the house or is afraid to leave the house."
Lund estimates the company has facilitated the giveaway of 22 truckloads of food since the program began. That equates to more than 40,000 boxes of food, boxes that contain, according to Lund, "some sort of protein. It's either chicken, beef, ham. There's been turkey. There's usually lettuce, strawberries, apples, celery, cottage cheese, yogurt, apples, onions, potatoes. You get five pounds of potatoes, celery, carrots, apples. It's different each week. So it's, it's not always the same monotonous box."
And, it has gotten all of this fresh, farm-to-table food to people in need without some of the tools and facilities larger companies might have at their disposal.
"Well, when it originally started at first, I thought it was going to be craziness," said Lund. "We were like, how are we going to get this without a forklift? It was something out of the norm. We do full-truckload. We don't do LTL. So we don't use forklifts. We don't have a cross-docking facility or anything like that. Everything's usually sealed in our trailers when it comes here and we don't do any touching of it.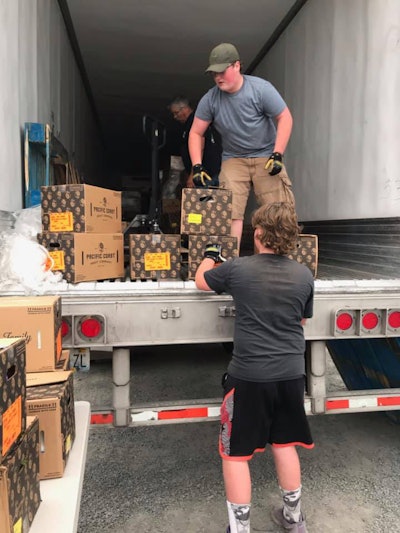 "We were not sure what was going to happen. I was amazed at how many guys wanted to get out and just hand boxes away. We have a lot of retired military folks that just love just helping others. So when it first started, we had more than enough help from all our drivers. If they're in the yard and see it happening, they're jumping out of their truck, going to give a hand because they know it could be them tomorrow that needed a hand, just like it could be me tomorrow."
But there's more.
"I do it every time," Lund said about distributing the food. "It's an amazing rush at the end. You're like, wow, this just feels good. You didn't do anything but lift some boxes, but you feel like you accomplished something."
And, while facilitating a food giveaway program on the side, Lund has kept the business going. He confesses that early on in the pandemic, there was a certain amount of fear in the company's ranks. Some of the retail outlets they'd normally deliver to were closed.
"There were no employees in there," said Lund. "Our trucks would show up and nobody would be there to unload. We'd end up having to bring it back to the DC. And we had probably 30, 40 trailers that were loaded that couldn't deliver sitting over at the DC."
He recalls the first couple of weeks were hard, and catching up has been demanding. "We sometimes have more freight than we have trucks," said Lund.
But, fortunately, "We have a group of drivers that have been with us awhile," he said. "So we're fortunate to have good drivers. Actually, we have great drivers. I shouldn't say good. They're great."