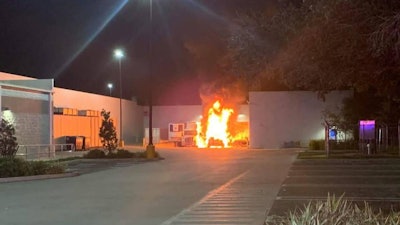 A tractor-trailer fire early Friday morning, Nov. 27, in Florida caused a Walmart Supercenter to be evacuated and damaged several other trucks and trailers parked at the store's loading dock.
A Hernando County Sheriff's Office deputy heard an explosion at about 5 a.m. at the store in Brooksville about 50 miles north of Tampa. He found a tractor-trailer parked between two other rigs was on fire. He helped an occupant in one of the other trucks get out safely, and other deputies evacuated the store.
The driver of the tractor-trailer that caught fire had just arrived at the store and had gone inside when he heard the explosion.
No injuries were reported. The cause of the explosion remains under investigation. The store reopened at about 8 a.m.