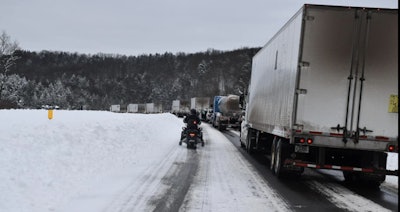 Much of the Northeast continues to dig out from under what was a record-setting snowstorm that caused numerous accidents and slowed or stopped freight traffic on numerous interstates.
On Wednesday, Dec. 16, several states in the path of the storm restricted or banned trucks on some of their highways. New York, New Jersey, and Pennsylvania Wednesday enacted restrictions on commercial vehicles. Today those restrictions were lifted and state transportation departments continue to clean up.
Eighteen counties are included in a state of emergency declared in New York state. A statement about the storm from Gov. Andrew Cuomo said State Police responded to more than 600 accidents or disabled vehicles. More than 42 inches of snow fell on Binghamton, which is located on Interstate 81 almost on the Pennsylvania border. The Albany area received from 22 to 36 inches, while 10 inches was recorded in New York City's Central Park.
One of the storm's fatalities occurred in Albany and involved a trucker. Police said a tractor-trailer on Interstate 787 in downtown Albany collided with a person riding a snowmobile, resulting in the rider's death in the early hours Thursday morning. The victim's name has yet to be released.
Meanwhile, in Pennsylvania, the Department of Transportation and the Pennsylvania Turnpike Commission lifted all vehicle and speed restrictions that had been previously enacted in response to yesterday's major winter storm. PennDOT and PTC are continuing their ongoing work to clear and treat roadways, and encourage that motorists avoid all unnecessary travel.
Snowfall reports received as of 1 pm. Top amounts by state thus far:
NY-Newark Valley 44"
VT-Ludlow 44"
PA-Alba 43.3"
NH-Sanbornton 40"
ME-Acton 25.7"
MA-Lanesborough 23"
CT-New Milford 16.5"
RI-Chepachet 12.5"
NJ-Stockholm 12"
MD-Sabillasville 12"
WV-Hambleton 12"
VA-Basye 11.5" pic.twitter.com/aKmJnXuoOb

— NWS Eastern Region (@NWSEastern) December 17, 2020
Check out this snow timelapse (9am - 2:30am) from one of our forecaster's backyards about 2 miles north of downtown Pittsburgh (Lower Lawrenceville)! Storm total snow was measured at 11 inches there. pic.twitter.com/ywjXlbSOwm

— NWS Pittsburgh (@NWSPittsburgh) December 17, 2020