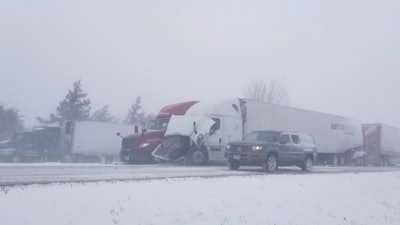 Much of Nebraska and southwest Iowa including Interstate 80 are under a winter weather warning through 9 p.m. Central today. There is also a report f bad weather in South Dakota and a major accident on Interstate 29.
Troopers just posted to Facebook:
I-80 is CLOSED Westbound from York to Kearney due to multiple crashes and whiteout conditions.
Highway 34 is CLOSED from Grand Island to Hastings and York to GI.
Highway 30 is CLOSED from Grand Island to Kearney.
DO NOT TRAVEL in these blizzard conditions
Total snow accumulations of 1 to 2 inches and winds gusting 40 to 55 mph will lead to blowing snow and eventual near whiteout conditions. The addition of possible light ice accumulations is making travel hazardous. Gusty winds will produce strong crosswinds for travelers, including high-profile vehicles like tractor-trailers. Winds may and may lead to isolated power outages and downed tree branches.
Troopers are reporting whiteout conditions in the tri-city area on I-80, Highway 34, Highway 30, and other roadways in the area. Troopers say they and other agencies are working numerous crashes or slide-offs.
The troopers are suggesting no travel in these conditions.
The South Dakota Highway Patrol just posted on Facebook:
Emergency Notification: There is currently a 20 car pileup on I-29, one mile north of the Dell Rapids exit.
-The northbound lane is currently closed to traffic. The DOT is rerouting traffic at exit 98.
-Zero visibility in the area.
UPDATE: There are also reports of two more pileups near Hartford and in Moody County. This is preliminary information.