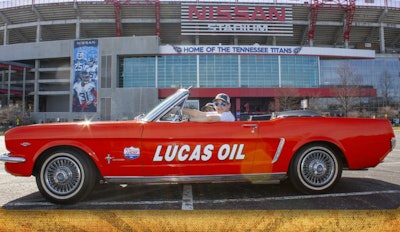 If something seems too good to be true, there are times when it really IS true.
Bryon Wilson, a Minnesota-based truck driver for FreightEX found that out recently when he was earlier this month named the winner in a contest held by the AMBEST network of independent truck stops and Lucas Oil. The prize: a 1964 ½ Mustang V8 convertible.
"This is just unbelievable, I'm one of those guys that never expects to win anything. You always hope something like this could happen, but never in my wildest dreams did I ever think it would happen to me," Wilson said. "I kept thinking this is too good to be true, pretty much all the way up until I had the keys in my hand!"
Steve Allen, CEO of AMBEST, and Calvin Saulman, national account manager for Lucas Oil, presented Wilson with the Mustang on March 8th at the AMBEST corporate office in Nashville, Tennessee.
"One of the most exciting days of the year is when we get to present our AMBUCK$ grand prize to one lucky driver," Steve Allen.. "The 1964 ½ Mustang is one of the best prizes we've ever given away, and we are excited to partner with Lucas Oil for the 13th consecutive year to present this amazing car to Bryon."
AMBUCK$ is the longest continuously running professional driver rewards program. It gives away more than $60,000 in prizes and rewards to truck and motorcoach drivers each year. Drivers swipe their AMBUCK$ loyalty card when they fuel at any AMBEST location, and each swipe is an entry to win multiple prizes or even the annual grand prize.
The 2021 grand prize will be a custom-built Polaris Ranger 900 XP all-terrain vehicle. This will be the 14th year that AMBEST is partnering with Lucas Oil to co-sponsor a grand prize.
The AMBEST network includes more than 450 truck stops nationwide.