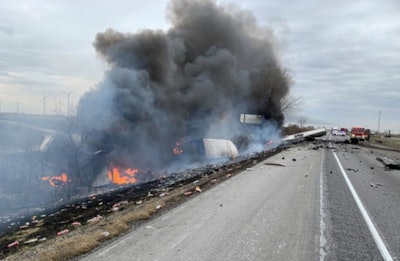 Indiana State Police photo
A trucker died in a collision involving a second tractor-trailer and another vehicle on Interstate 65 in Indiana Tuesday morning, March 23.
Indiana State Police say the collision occurred at about 11 a.m. on southbound I-65 at mile marker 187 about 80 miles northwest of Indianapolis when a 2017 Freightliner, pulling a tanker trailer containing a food-grade material, was driving northbound and struck a 2014 GMC van. The truck continued across the cable barrier and into the southbound lanes, where it struck a southbound 2019 Volvo pulling two trailers.
ISP reports the Freightliner hit the two trailers, split one of them in half, and caught on fire. The Freightliner and both trailers came to rest in the ditch on the west side of the southbound lanes. The Volvo continued southbound and stopped on the right shoulder.
The unidentified driver of the Freightliner was pronounced dead at the scene. The driver of the Volvo and the other vehicle were uninjured.
Investigation of the accident continues.
Tanker driver dies in Maryland crash and fire
The driver of a tanker died Tuesday, March 23 in a crash and fire on Interstate 70 near New New Market, Maryland.
Maryland State Police say the truck rolled over and burst into flames on eastbound I-70 near New Market, which is located about 10 miles southeast of Frederick.
Police confirmed the driver of the truck died in the crash and the cause of the accident is still not known. MSP identified the driver who died as William J. Costigan, 57, of Damascus, Maryland.
MSP continues its investigation.
Trucker uninjured in tanker rollover
One person was taken to the hospital and a portion of U.S. Route 322/General Potter Highway was closed Tuesday afternoon, March 23, after a crash between a car and a tractor-trailer hauling 7,500 gallons of gasoline. The crash happened at about 3:30 p.m. in Potter Township east of State College, Pennsylvania.
According to a state police report, a 55-year-old Philipsburg, Pennsylvania man, was traveling eastbound in a Buick Century when he crossed into the opposite lane and struck a Peterbilt truck driven by 40-year-old man from Illinois. First responders extricated the Buick driver, who had "suspected minor injuries." He was cited for careless driving.
After the collision, the tanker rolled over a guardrail and was leaking gas. The driver was not injured, and the gasoline spill was contained.