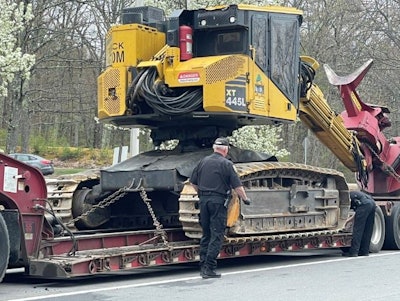 NH State Troopers
Earlier this month, law enforcement officers across the U.S., Canada, and Mexico participated in International Roadcheck, the Commercial Vehicle Safety Alliance's annual three-day enforcement effort.
While the CVSA has not yet released details of this year's Roadcheck, which was held May 4-6, the New Hampshire State Troopers have revealed what its officers did during the event.
A detailed statement from the agency said troopers:
inspected 356 commercial vehicles
issued 25 CVSA decals to commercial motor vehicles that passed a Level I inspection where no critical violations were found
discovered 709 violations
placed 56 vehicles out of service for critical safety violations
placed 29 drivers out of service
issued 63 citations and made one arrest
Violations that caused drivers to be placed out of service included possessing drugs, possessing alcohol, driving while not physically qualified, failing to maintain a record of driving hours, not holding the proper class of driver's license, operating after a license suspension, and for continuing to drive after being declared out of service.
The troopers also cited several examples of violations uncovered during their Roadcheck inspections.
In Tamworth, Trooper First Class Seth Turner stopped a 2002 International carrying drilling equipment. An inspection of the vehicle, including a weight check, was conducted. As a result, it was discovered that the vehicle exceeded its maximum allowable gross weight rating by 13,800 pounds, the vehicle exceeded axle ratings on its drive axles by 6,200 pounds, and the vehicle exceeded tire load limits by 860 pounds. Additionally, the vehicle's load was not properly secured and the driver's record of duty status was not current. The vehicle was placed out of service and had to remove part of its cargo so as not to exceed tire load limits.
In Meredith, Trooper Kevin Raymond stopped a 1998 Kenworth. During the inspection, it was discovered that the carrier's name was not displayed as required; was utilizing fog lamps that were for off-road use only; that the pitman arm, which translates movement from the steering box to the front axle was loose; and that the steering wheel had excessive lash, in that the steering wheel could be moved 10.25 inches before moving the front wheels. The vehicle was ultimately placed out of service.
In Sanbornton, Trooper Mark Magoon stopped a 2018 Hino box truck after the driver failed to pull into a commercial motor vehicle inspection area. As a result of a commercial motor vehicle inspection, it was found that that the driver was in possession of a controlled drug, was not keeping a required record of duty status, and was operating without possessing a valid medical card after having been previously cited. Additionally, it was found that the driver had failed to conduct a pre-trip inspection, the vehicle was not registered, and the company had failed to file a required biennial update with the Federal Motor Carrier Safety Administration. The driver was ultimately placed out of service and prohibited from operating a commercial motor vehicle, while the vehicle was towed.