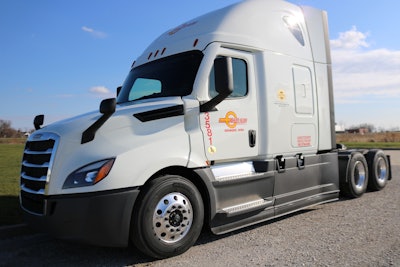 An Iowa-based truckload carrier was recently honored by two of its major customers.
Barr-Nunn Transportation received Walmart's E-Commerce Carrier of the Year award for the second consecutive year. The annual award recognizes Walmart transportation partners for their dedication to customer service, effective communication, and providing improved service and solutions.
The Granger, Iowa-based carrier also was awarded Gap, Inc.'s 2020 National Carrier of the Year. The designation recognizes the trucking company's commitment to customer service and innovation and marks the 9th consecutive year the American clothing retailer recognized the carrier
"Receiving consecutive recognition as the Walmart E-Commerce Carrier of the Year is a tremendous source of pride for the entire Barr-Nunn Transportation team, especially during these challenging times," said Rene Beacom, president of Barr-Nunn Transportation. "We are grateful for our twenty-year partnership with Walmart and the opportunity to serve such an excellent organization."
RELATED: Barr-Nunn expands Shift Load Pay program to more states
Barr-Nunn has been one of Gap's primary carriers since 2009.
"Gap, Inc. is an excellent organization and to be recognized as its 2020 National Carrier of the Year points to the effectiveness of our entire team," said Beacom. "We strive to deliver superior service, safety, and value, and I would like to thank not only our partners at Gap for recognizing us for accomplishing this but most importantly, all of those in our company, especially our exceptional drivers, who made it happen."
Founded in 1982, Barr-Nunn is a dry van truckload carrier operating about 550 tractors and about 1,860 trailers.