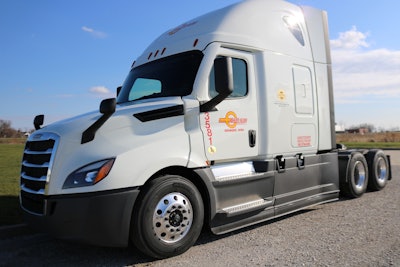 Granger, Iowa-based Barr-Nunn Transportation has expanded its innovative Shift Load Pay program to nine more states.
The company is now offering Shift Load Pay for solo drivers running over the road in New Hampshire, Maine, Vermont, Michigan, Minnesota, Wisconsin, Nebraska, Iowa, and Missouri. Drivers in this fleet are out 21 days and home for seven days.
The Shift Load Pay program had originally been available to drivers who live in the greater Chicago and Indianapolis metropolitan areas, and Columbus and western Ohio. It's also an option for drivers in eastern Pennsylvania, all of New Jersey, western Maryland, and much of Massachusetts.
Jeff Blank is the director of recruiting for Barr-Nunn and said the pay portion of Barr-Nunn's Shift Load Pay is $250 per shift plus $65 per load. Blank said the company is currently paying an extra $15 per load for Economic Recovery Pay.
Blank said that equates to $330 for hauling one load per day. Over 21 days that adds up to $6,930 or $2,310 per week. He said this does not include the safety bonuses of $1,125 or $1,300 every 90 days.
In all, Blank said the Shift Load Pay means a driver can earn $90,000-plus per year working for nine months on and three months earned time off.
Making it even more attractive, according to Blank, is that drivers are given a late-model specially equipped tractor. It includes a flat-screen TV, microwave, refrigerator, bedding, CB, and inverter.
Blank said drivers do not take the equipment home. They run for 21 days and then they drop off the equipment at whichever Barr-Nunn terminal they are closest to. The company provides a flight or rental car home at no cost to the driver.