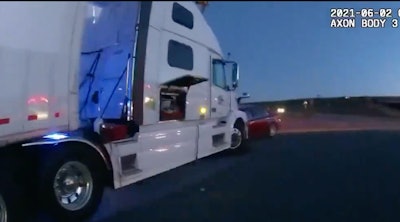 West Valley City Police Department boy cam footage
A tractor-trailer driver in suburban Salt Lake City had a bit of a surprise Wednesday when their truck was hit head-on by another vehicle. The collision was not the biggest surprise for the trucker who reportedly escaped unscathed.
Instead, the real shocker was who was driving the car that hit his rig. It was a 9-year-old girl behind the wheel and her 4-year-old sister in the passenger seat. Seems the two decided they wanted to go swimming in the ocean in California so hopped in the family car and took off from home.
According to a Tweet from the West Valley City Police Department, "The girls drove about 10 miles from their home in West Jordan -- via a highway and a freeway -- before exiting off, hopping a median and slamming head-on into a semi truck. The car suffered serious damage. Even the semi had to be towed!"
Before hitting the tractor-trailer, the joy-riding youngsters collided with a pickup truck when they exited off of Bangerter on to state Route 201 eastbound. The pickup's driver was not injured and began following the girls, thinking the driver of the car must have been impaired.
Neither girl was injured in either collision. Both had on seat belts and the car's airbags deployed when they hit the tractor-trailer. Their parents told the police they had no idea the girls why the girls took off and only found out they were gone when the police called.