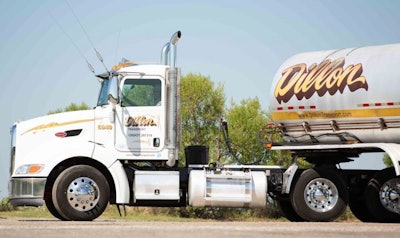 Dillon Logistics, doing business as Dillon Transport, has closed its doors and shuttered its operations.
The company has yet to issue a formal announcement, but a source familiar with the situation confirmed to our sister publication Commercial Carrier Journal Wednesday the Burr Ridge, Illinois-based fleet's closure. According to CCJ data, Dillon owned 323 trucks and 531 trailers, and employed 341 drivers.
Attempts to reach Dillon executives and members of its leadership team Wednesday were unsuccessful. The company's phone lines are going unanswered, and its Facebook page has been deactivated. Several fleets jumped on social media Wednesday in attempts to recruit former Dillon drivers seeking new employment.
Dillon was founded in 1980 and operated 10 facilities in the South and Midwest. The company had terminals in Atlanta; Dallas; Heidelberg, Mississippi; McCook, Illinois; Medina, Ohio; Michigan City, Indiana; Mulberry, Florida; Savannah, and Tampa.
Private equity firm Cotton Creek Capital acquired an interest in the dry bulk and liquid tanker services company in January 2017. Efforts to reach a Cotton Creek Capital spokesperson Wednesday were also unsuccessful.