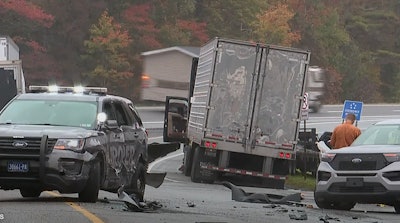 Pennsylvania State Police officers shot a trucker who drove his tractor-trailer at them during a standoff at an Interstate 80 rest area in Central Pennsylvania Tuesday, Oct. 5.
Troopers were called to the rest stop on I-80 between the Jersey Shore exit and the Mile Run exit at about 4:30 a.m. for reports of a robbery.
The unidentified suspect was barricaded in his tractor-trailer at the Clinton County area rest stop between Williamsport and State College. Troopers surrounded the vehicle and tried to get the suspect to surrender.
Instead, the suspect drove his tractor-trailer toward three police vehicles and several troopers, who fired at the truck. The suspect died from his wounds. Several officers were treated for minor injuries.
Police continue their investigation.