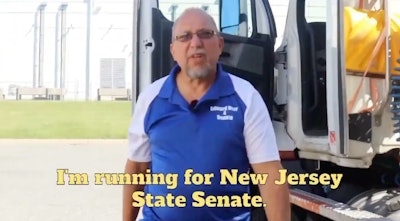 A company driver for the Raymour & Flanigan furniture chain appears to unseated New Jersey State Senate President Steve Sweeney in last week's off-year elections. However, his opponent is questioning the outcome of the close election.
Edward Durr's election quest started when the local sheriff told him he couldn't get a concealed carry gun permit. Durr, 58, is a lifelong New Jersey resident, has three children and blue-collar roots.
Durr told Politico that he doubts he spent more than $10,000 on the entire campaign. Durr won the tight race by about 2,000 votes.
Duur ran against Democratic Gov. Phil Murphy's pandemic policies.
He said, "You cannot continue to tell people they cannot do things when we live in the freest country in the world. And you think you're just gonna sit on your hands and do nothing. Gov. Murphy kept telling you, 'no, no, no.' And Senator Sweeney sat there and (said) all right, whatever. So the people said, 'No, you're not doing your job. Take a seat, we'll find somebody else to do the job."
Sweeney received only slightly fewer votes than he did four years ago in his reelection bid. But Durr outperformed Sweeney's GOP opponent in 2017 by more than 10,000 votes, an increase of nearly 50%, according to the Philadelphia Inquirer.
However, Sweeney said he will not concede the election, telling local media that thousands of ballots were "recently found in one county."
Durr has come under fire since Election Day for past social media posts including ones that claimed Islam is "a false religion," comparing vaccine mandates to the Holocaust and defending rioters at the U.S. Capitol.
He issued a statement to media outlets in which he said, "I'm a passionate guy and I sometimes say things in the heat of the moment. If I said things in the past that hurt anybody's feelings, I sincerely apologize."