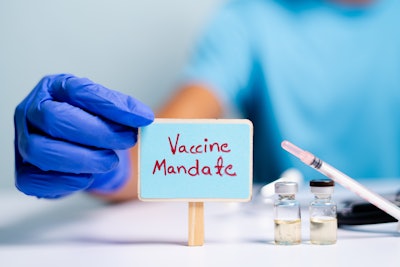 Trucking interests and others have filed a lawsuit in response to the federal government's COVID-19 vaccination requirement that businesses with more than 100 employees require workers to be vaccinated or be tested weekly.
The American Trucking Associations, the Louisiana Motor Truck Association; the Mississippi Trucking Association; and the Texas Trucking Association are among those organizations filing the lawsuit. The ATA has previously said it believes solo truck drivers are exempt from the vaccination requirement, citing comments by Labor Secretary Marty Walsh.
Walsh previously said, "If you're a truck driver and you're outside, you're in a cab driving by yourself, this doesn't impact you. If you're a worker outside working in the area, this doesn't impact you."
RELATED NEWS: Vaccination mandate may not apply to many solo truckers & court issues stay
The suit was filed in the U.S. Court of Appeals for the Fifth Circuit. Joining the trucking industry interests were the Food Marketing Institute, the International Warehouse Logistics Association, the National Association of Convenience Stores, the National Retail Federation, the National Association of Wholesaler-Distributors and the National Federation of Independent Business.
"We told the administration that this mandate, given the nature of our industry and makeup of our workforce, could have devastating impacts on the supply chain and the economy and they have, unfortunately, chosen to move forward despite those warnings," said ATA President and CEO Chris Spear. "So we are now, regrettably, forced to seek to have this mandate overturned in court.
"To be very clear, ATA and its member companies support efforts to encourage all Americans to get vaccinated against COVID-19 ... but we believe that the Biden Administration has overstepped its statutory authority in issuing this Emergency Temporary Standard. This standard arbitrarily picks winners and losers, and puts employers in an untenable position of forcing workers to choose between working and their private medical decisions, which is something that cannot be allowed."
The ATA said it believes the Occupational Safety and Health Administration did not satisfy the statutory requirements for issuing this Emergency Temporary Standard instead of going through the proper rulemaking process.
The Truckload Carriers Association, another major trucking industry trade association, this morning issued a statement in which it said, it "will continue to work closely with, and fully supports the work being done by the ATA and our industry partners on behalf of the industry.
This lawsuit joins many others that have been filed by states, their attorneys general and private businesses.