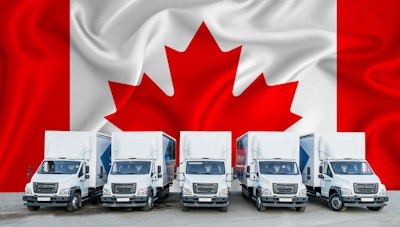 Canadian truckers are actively protesting that country's COVID-19 vaccination requirement with, among other things, a cross-country convoy. However, the protest has not met with approval from the entire Canadian trucking community.
The Convoy for Freedom 2022 left British Columbia in western Canada on the weekend and is meant to be in the capital of Ottawa on Saturday, Jan. 29. Other truckers from elsewhere in the country are headed to Ottawa as well.
Canada's vaccination/testing requirement became effective Jan. 15, and the Canadian Trucking Alliance claims it will cause the loss of from 12,000 to 16,000 cross-border drivers. The U.S. enacted a similar vaccination requirement this past weekend.
The trucking alliance issued a statement Saturday, Jan. 22 that said it "does not support and strongly disapproves of any protests on public roadways, highways, and bridges. CTA believes such actions – especially those that interfere with public safety – are not how disagreements with government policies should be expressed. Members of the trucking industry who want to publicly express displeasure over government policies can choose to hold an organized, lawful event on Parliament Hill or contact their local MP. What is not acceptable is disrupting the motoring public on highways and commerce at the border."
The alliance also said the "vast majority of the Canadian trucking industry is vaccinated with the overall industry vaccination rate among truck drivers closely mirroring that of the general public "Accordingly, most of our nation's hard-working truck drivers are continuing to move cross-border and domestic freight to ensure our economy continues to function."
A crowdfunding page created to support the protest convoy has raised more than $3 million. Organizers say the money will be used to pay for fuel, and possibly food and lodging for participating truckers.
But, it's not just truckers protesting the mandates. One of the event's organizers told the CBC, "There are health-care workers involved, law enforcement officers, teachers, construction workers, parents, children and so much more."
ICYMI
18-20-year-olds apprenticeships plan draws strong comments both for and against
Love on the Highway: How folks make being a couple & being a team work
Driver poll: Ever consider becoming an owner-operator?
Autonomous truck makes trip with no one onboard, no human intervention
Have a Listen
Take a Look