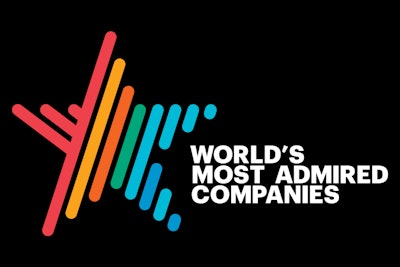 Trucking and highway safety organizations have differing opinions when it comes to the truck driver training apprenticeship program for under-21-year-olds created by the federal government.
Writing in Overdrive, Matt Cole found organizations opposed to the pilot program included:
Owner-Operators Independent Driver Association
Truck Safety Coalition
Citizens for Reliable and Safe Highways (CRASH)
Parents Against Tired Truckers
RELATED NEWS: 18-20-year-olds apprenticeships plan draws strong comments both for and against
Supporting the pilot program, and suggesting some changes were:
Truckload Carriers Association
American Trucking Associations
Commercial Vehicle Training Association
Drive Safe Coalition
The apprenticeship program was included in the Biden administration's Bipartisan Infrastructure Law that was signed into law in November.
Trucking companies among most admired, according to business magazine
Several trucking and related companies are on this year's list of the world's most admired companies, as created by Forbes magazine.
Among them are:
16th FedEx
31st UPS
126 DHL
172nd J.B. Hunt
261st C.H. Robinson
265th Ryder
"At J.B. Hunt, we're continually seeking new opportunities to generate value for our customers and transform our industry," said John Roberts, president and CEO at J.B. Hunt. "This recognition is a testament to the hard work and dedication of our people and their commitment to delivering the best solutions for our customers."
To compile the list, Fortune collaborated with Korn Ferry, a global management consulting firm, to conduct an annual survey of corporate reputations. Companies chosen as World's Most Admired were determined by executives, directors, and analysts who were asked to rate their own industry based on a set of criteria. Those earning the distinction were selected from a total of 640 companies, ranking in the top half of its industry survey.
The complete rankings are available on the Fortune website.
Pilot begins Heart Month fundraising efforts
Pilot Company is kicking off its annual American Heart Month Campaign with new ways for guests to give in support of heart health this February at more than 670 participating travel centers across North America.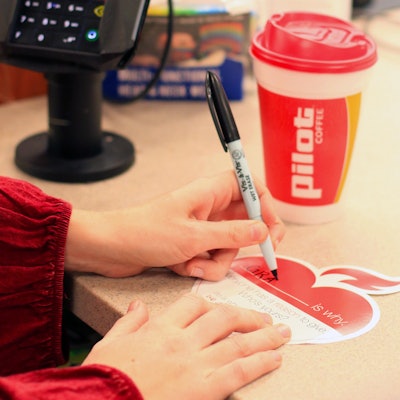 This is the sixth year Pilot Company has teamed up with the American Heart Association for its Life is Why™ campaign – inspiring guests to celebrate their reasons to live healthier, longer lives by donating online or at participating Pilot Flying J or One9 Fuel Network travel centers Feb. 1-28.
New initiatives include donations through the purchase of Pilot Flying J eGift cards, and in-store donations will be accepted at Flying J locations in Canada from Feb. 22–28 to benefit the Heart and Stroke Foundation of Canada.
The company's fundraising initiatives include:
Paper Heart Icons: $1, $3, and $5 red hearts will be available for purchase at participating travel centers all February to benefit the American Heart Association and at Flying J locations in Canada from Feb. 22-28 to benefit Heart & Stroke; 100% of the proceeds will go directly to each organization, respectively.
Pin-Pad Round-Up or Donation*: During the month of February, guests can round up their purchase to the nearest whole dollar or elect to donate other amounts to the American Heart Association on the pin-pad during checkout at participating U.S. travel centers. In Canada, guests can opt to round up or donate to Heart & Stroke through the cashier from February 22-28. 100% of the proceeds will go directly to each organization, respectively.
eGift Cards: For every heart-themed Pilot Flying J eGift card sold in February, the company will donate 10% of the proceeds to the American Heart Association, up to $10,000.
Donate Online: A donation link is available on the Pilot Flying J campaign website throughout the month of February to provide guests another convenient way to donate to the American Heart Association.
To promote healthier lifestyles on the road, guests can find exclusive deals during February in the myRewards Plus™ app to save on healthier food and beverage options at Pilot Flying J Travel Centers.
ICYMI:
Winter storm closing interstates; more to come through Friday
Is this the time to go out on your own?
You'll need proper gear to battle next winter storm
Finalists named for Best Fleets To Drive For contest
Take A Look At This