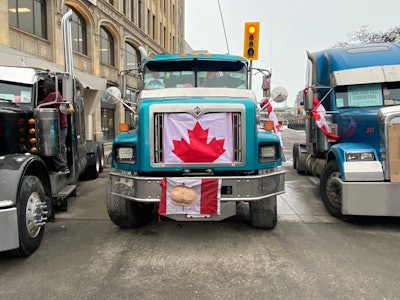 Gary A Corcoran Arts / Shutterstock.com
Canadian Prime Minister Justin Trudeau Monday announced he would invoke, for the first time in the nation's history, emergency powers that will allow him to clamp down on protests that have slowed or stopped traffic at U.S.-Canada border crossings and disrupted life in the country's capital city, Ottawa, Ontario.
"The blockades are harming our economy and endangering public safety," said Trudeau. "Critical supply chains have been disrupted. This is hurting workers who rely on these jobs to feed their families.
"The scope of these measures will be time-limited, geographically targeted, as well as reasonable and proportionate to the threats they address,."
Trudeau said financial institutions would also be empowered to restrict funding or funds to protesters, and that the military could potentially be called on to tow vehicles blocking border crossings.
On Sunday night, the Ambassador Bridge between Windsor, Ontario, and Detroit reopened.
"I know that everyone is tired of this pandemic," said Trudeau. "We're hearing your frustration with COVID and even with the temporary measures we had to put forward to keep people safe. I know people are frustrated, I hear it. But blockading streets and critical infrastructure and depriving your neighbor of their freedoms is a totally different thing. It has to stop."
Trudeau's actions come as speculation around similar protests in the U.S. grows.