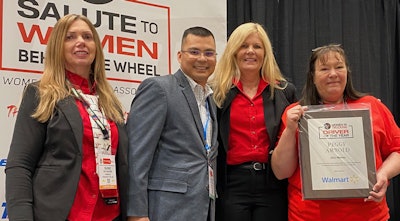 A. veteran company driver with almost 2 million safe miles to her driving credit was named the Driver of the Year by the Women In Trucking association.
Peggy Arnold, who has driven for Yellow for almost 30 years received the honor Friday during WIT's Salute to Women Behind the Wheel event gathering at the Mid-America Trucking Show, which closes today at the Kentucky Expo Center in Louisville.
The other finalists include Francis Hernandez, a professional driver with Waste Management, Inc., and Courtney Ohlandt, a company driver for FedEx Freight.
Arnold has received Yellow's Million Mile Safe Driving Award with nearly 1.9 million accident-free miles. SZhe also serves on Yellow's leadership team, the Women's Inclusion Network Employee Resource Group, and is also part of the safety team. Arnold was named as a 2022 Top Women to Watch in Transportation by WIT, American Trucking Associations America's Road Team Captains Finalist 2022, Yellow's Road to Excellence Award 2021, and Certified Safety Trainer 2021.
"Our safety team spends countless hours helping our fellow drivers prevent on the job injuries and with a goal to be accident-free," said Arnold. "I am a part of our new drivers training program and take my job straight to the heart. Every day I do my best to train and teach to the best of my ability."
"Peggy is the first driver of the year we've been able to honor in-person and we are truly thrilled to meet her and celebrate this accomplishment with her," said Ellen Voie, president and CEO of WIT.
Sponsored by Walmart, the annual award was established to promote the achievements of female professional drivers who lead the industry in safety standards while actively enhancing the public image of the trucking industry.
"At Walmart we believe we can best help our associates, customers and the communities we serve live better when we really know them," said Michael Del Rosario, general transportation manager at Walmart "That means understanding, respecting and valuing diversity -- our unique experiences, identities, ideas, and opinions while being inclusive of all people."
Members of the judging panel were: Tricia Tullis, general transportation manager, Walmart Transportation; Jeana Hysell, senior safety consultant, J. J. Keller & Associates, Inc.; and Voie.