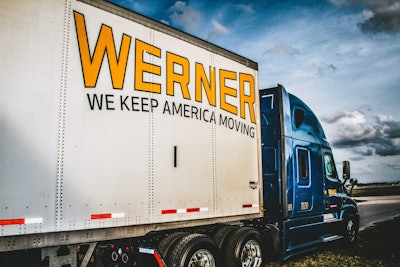 In a notice published in the Federal Register Thursday, March 31, the Federal Motor Carrier Safety Administration is granting a five-year waiver to Werner Enterprises that will allow certain commercial learner's permit holders driving for the company to operate a truck without a CDL holder in the front seat.
Werner requested an exemption to allow CLP holders who have passed the CDL skills test but have not yet obtained their CDL from their home state to drive a truck without having a CDL holder in the front seat, effectively allowing them to drive team.
The waiver went into effect March 31, 2022, and expires March 31, 2027.
FMCSA has previously granted similar exemption requests to C.R. England, initially in 2015, CRST Expedited in 2016, and Wilson Logistics in 2021.
TCA seeks nominees for annual safety award
The nomination period for the 2022 Truckload Carriers Association Safety Professional of the Year — Clare C. Casey Award begins Friday, April 1. The nomination period is open through April 14.
The award recognizes a TCA member who goes above and beyond in the name of safety. Individuals can nominate themselves, someone within their organization, or another industry safety professional.
The nomination period consists of two rounds. Round 1 is open April 1-14. The Round 1 entry form includes questions regarding nominator and nominee information, the recent safety performance of the nominee's company and the nominee's industry involvement.
After the panel of judges has determined which applicants will move on to Round 2, nominators will be notified and will have until May 5 to submit a second entry form. Round 2 questions ask about nominee's employment history, achievements, and community involvement.
The winner will be announced at TCA's 2022 Safety & Security Meeting, June 5-7 in Nashville, Tennessee.
ICYMI
Labor secretary attends opening of Yellow's newest training program
Buttigieg to trucking: Solve problems that make driving 'harder than it should be'
Stevens gives drivers 'largest and most comprehensive' raise in company history
40th Annual Shell Rotella SuperRigs in Branson, Missouri June 9-11
This You Have To See