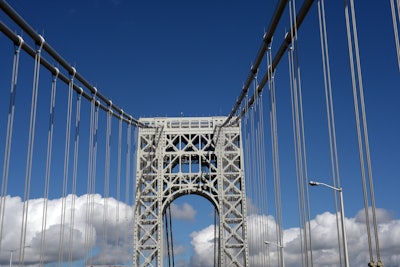 The worst freight bottleneck in the country got worse Monday morning when a tractor-trailer lost part of its load there.
News reports say steel beams fell off a flatbed on the bridge's upper deck at about 5:30 a.m. Traffic was delayed for more than three hours on the upper deck and for a shorter period of time on the bridge's lower deck.
The organization that oversees the bridge, which was once again identified as the worth bottleneck for freight by a trucking industry research organization, vowed to take action.
"The Port Authority (Port Authority of New York and New Jersey) is taking aggressive actions against the truck company and the driver that caused this morning's massive disruption on the George Washington Bridge," the agency said. "All such incidents of gross negligence that violate safety standards and impact thousands of motorists will face the full consequences that the law provides for, including cost recovery of damages incurred."
There were no reports of injuries in the mishap.
The trucker was not identified by police.
Also on Monday morning, a trucker was killed in Paradis, Louisiana when the load on his trailer shifted.
Louisiana State Police report 52-year-old Jason Gilbert was driving a 2007 Kenworth east on U.S. 90 with a trailer carrying a "heavy load." As Gilbert stopped for a red light, the load shifted and struck the back of the Kenworth's cab. He was pronounced dead at the scene.