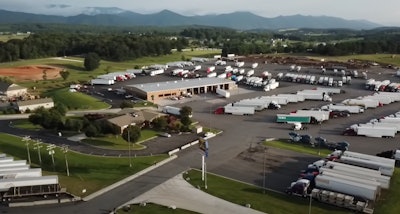 TravelCenters of America Inc. today announced that it has acquired two travel center locations for $45 million.
Located along the Interstate 81 corridor in Virginia, Petro Raphine and TA Lexington have been successful TA franchise locations since 2011. TA expects to realize significantly more cash flow from owning these locations than as franchise locations.
The Petro Raphine site is under renovation to add 170 new truck parking spaces and expand existing retail space. Following the renovation, which is anticipated to be completed this summer, Petro Raphine is expected to be one of the nation's largest travel centers based on its nearly 900 truck parking spaces.
"Investing in growth through the addition of company-owned sites is one of our key priorities for capital deployment this year," said Jonathan Pertchik, chief executive officer of TA. "Located along a busy and strategic highway corridor that serves professional truck drivers, four-wheel travelers, and the local communities, we expect these sites to exceed our minimum return thresholds. With the size and breadth of offerings at Petro Raphine, we are adding a flagship location to our company-owned sites and will also benefit from the experienced managers at these locations joining our company."
J.B. Hunt helps customers get carbon offset credits
J.B. Hunt Transport Services announced the launch of Clean Transport, a new program that will allow its customers to acquire carbon offset credits equivalent to the emissions created by their shipments.
"J.B. Hunt is committed to leading the industry toward a low-carbon future," said Craig Harper, chief sustainability officer and executive vice president at J.B. Hunt. "Many of our customers are working towards short- and long-term sustainability goals and Clean Transport will serve as a great extension of the efforts they're already taking to reduce the carbon footprint of their supply chain."
Clean Transport will help J.B. Hunt offset carbon emissions based on lane-specific activity each quarter. Working with credible third-party organizations, J.B. Hunt will provide program participants with data showing the number of carbon offsets needed to achieve a carbon-neutral shipment and obtain carbon credits supporting the project selected by the customer.
Carbon offset projects include reforestation, forest management, regenerative agriculture, and clean power generation.
Clean Transport is available for J.B. Hunt Intermodal customers and will expand to additional service areas as part of the program's growth. Customers can select which lanes are part of the program, or J.B. Hunt can provide recommendations based on a carbon footprint evaluation of lane activity.
Public radio business show takes up the issue of driver detention
ICYMI
C.W. McCall, voice of iconic trucker song 'Convoy', passes at 93
White House issues progress report on efforts to help trucking industry
How one driver made Mother's Day Convoy a personal quest to help
National driving competitions will be held in person this year
Take A Look At This ....