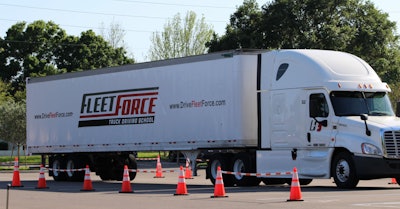 CVSA asks FMCSA for time, distance limits on personal conveyance
The Commercial Vehicle Safety Alliance, in a letter penned to the Federal Motor Carrier Safety Administration on March 29, petitioned the agency to amend the "personal conveyance" regulations by adding a definition for the term.
Specifically, CVSA asked the agency to define "personal conveyance" with the maximum distance and/or time a driver can operate under personal conveyance status.
"To be eligible to log personal conveyance time as off-duty, commercial motor vehicle drivers must meet several conditions as outlined in the regulatory guidance on the agency's website," CVSA said, including "being relieved of all on-duty activities and responsibilities and ensuring that the off-duty trip is personal in nature."
The group said, however, that the guidance falls short by not providing distance or time limitations. Instead, the guidance gives motor carriers discretion on how to police personal conveyance.
"Motor carriers can establish personal conveyance limitations either within the scope of, or more restrictive than, this guidance, such as banning use of a CMV for personal conveyance purposes, imposing a distance limitation on personal conveyance, or prohibiting personal conveyance while the CMV is laden," FMSCA's guidance currently reads.
CVSA said this adversely affects safety "by allowing drivers to utilize personal conveyance to legally drive many hours beyond the hours-of-service limits and by making it difficult for inspectors to identify the misuse of the provision."
Two new trucker training facilities open in Florida
FleetForce Truck Driving School announced plans to open two new training facilities in Florida's Gulf Coast region.
The program — a partnership between FleetForce, Florida Trucking Association, State College of Florida, Manatee-Sarasota, and multiple trucking companies — removes the financial barrier for people who want to go through driver training school. Trucking companies that are FTA members pay the tuition costs upfront, with an agreement to hire the student once they complete the course and receive their CDL.
FleetForce currently operates driver training schools in Winter Haven, Palm City, and on the Bradenton campus of State College of Florida, Manatee-Sarasota. The new site in Venice will expand the partnership between FleetForce and SCF.
Love's offers discounts ahead of International Roadcheck
Love's Travel Stops is offering truckers discounts to help them prepare for this year's Commercial Vehicle Safety Alliance's (CVSA) 2022 International Roadcheck.
Throughout April and May, drivers can receive $1 TirePass inspections and $10 off DOT inspections at over 400 Love's Truck Care and Speedco locations across the country. During this time, drivers can also get a complimentary visual inspection with the purchase of any truck care service.
The CVSA Roadcheck takes place May 17-19, and inspectors will be out across the U.S. inspecting commercial motor vehicles and drivers. It's the largest targeted enforcement program on commercial motor vehicles in the world.
The focus of this year's Roadcheck is on wheel ends. Violations involving wheel end components historically account for about one-quarter of vehicle out-of-service violations discovered during International Roadchecks.
ICYMI
Trucking organizations mostly applaud Biden's efforts on behalf of drivers, industry
C.W. McCall, voice of iconic trucker song 'Convoy', passes at 93
Melton driver helps rescue people in three-vehicle crash in Alabama