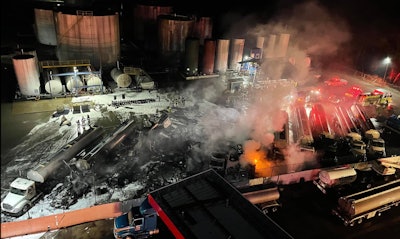 Slippery Rock Volunteer Fire Department
Several tanker trucks were destroyed during an early morning fire Tuesday at an oil refinery in northwest Pennsylvania.
The fire occurred at about 4 a.m. at the Heath Oil Refinery in Barkeyville, which is located on Interstate 80 about 65 miles north of Pittsburgh. Two firefighters were injured while battling the blaze.
KDKA TV in Pittsburgh reports, "Clintonville Volunteer Fire Department Assistant Chief Brayden Rea said they believe a parked truck carrying a tanker caught fire first then spread to two other trucks."
The investigation into the fire continues.
Kansas truck driver wins $20k AMBUCK$ grand prize Polaris Ranger XP 900
AMBEST, the member-owned, nationwide network of independent truck stops and service centers, presented the 2021 Grand Prize Polaris Ranger XP900 to Kansas-based driver and long-time AMBUCK$ cardholder Doug Jackson. The presentation was held Wednesday, April 6, at AMBEST member location Midwest Travel Plaza in Cuba, Missouri.
"I remember looking at the grand prize banner and saying, 'No one ever wins these things.'" said Jackson,. "Like many truck drivers, I work hard and spend a lot of time on the road to build a better future for my family. Winning this is an amazing gift recognizing that hard work."
AMBUCK$ is the longest continuously running professional driver rewards program and gives over $30,000 in prizes and rewards to truck and motor coach drivers each year.
ICYMI
Pay hike means Walmart drivers can make up to $110,000 in their first year
4 trucks, 4 drivers placed out of service during NHSP 'move over' blitz
Pilot and its customers raise over $1 million to aid Ukraine's children, families
Watch as FMCSA offers updates on issues during MATS