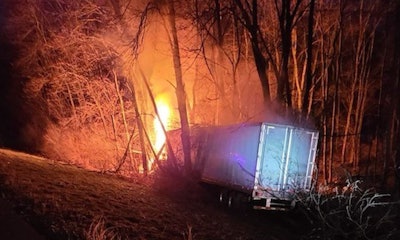 New York State Police
A 45-year-old trucker was found dead in the cab of a tractor-trailer that crashed into trees along Interstate 81 south of Syracuse, New York and caught fire early Friday morning, April 8.
Just before 6 a.m., New York State Police troopers and firefighters responded to reports of a tractor-trailer on fire in Cortland County. The tractor-trailer was traveling southbound on I-81 at the time of the crash.
A report by the troopers says the truck veered off the roadway for an unknown reason and crashed into trees in Homer.
The tractor-trailer belonged to Granger Enterprises, Inc., troopers said.
The driver was pronounced dead at the scene. He was found sitting in the cab of the burning truck, troopers said. NYSP did not release the identity of the man.
The crash remains under investigation.
A. Duie Pyle expands operations in Virginia
Pennsylvania -based LTLT carrier A. Duie Pyle will add three new locations in Virginia.
The 98-year-old company is adding service centers in Richmond, Roanoke and Manassas.
The company said this "strategic expansion" that will enable it to improve shipping, schedules, and overnight delivery capabilities. A Duie Pyle's focus is on the Northeast.
The company already operates 27 service centers and 16 warehouses.
I-5 rest area in Washington closes for maintenance
The Washington Department of Transportation reports the SeaTac rest area on northbound Interstate 5 (mile marker 140.7) is closed starting today through Friday, April 16.
Crews will be performing routine maintenance.
ICYMI
Pay hike means Walmart drivers can make up to $110,000 in their first year
FMCSA seeks members for its Truck Leasing Task Force
Trucker and Marine veteran honored for helping save injured motorist
Take A Look At This