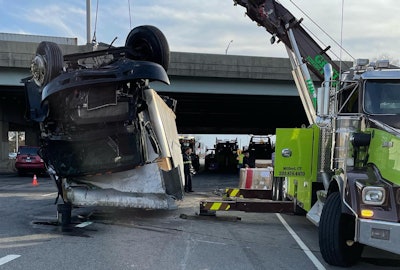 Milford Professional Firefighters
A tractor-trailer was knocked off Interstate 95 and fell onto Route 1 in Milford, Connecticut Wednesday afternoon, April 13.
Firefighters responded to the crash, that occurred near Boston Post Road, also known as Route 1, near exit 39 of southbound Interstate 95.
Connecticut State Police said the truck was hit from behind by a car that tried to pass another vehicle in the breakdown lane of I-95. The impact caused the driver of the tractor-trailer to lose control and go over the guardrail.
The truck's driver, who authorities did not identify, was able to free himself from the wrecked cab. He was taken to Bridgeport Hospital for treatment of unspecified injuries.
The accident remains under investigation.