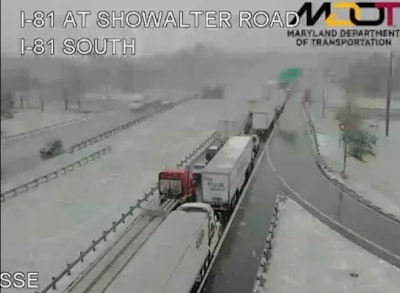 Maryland DOT
Police in Illinois Tuesday were involved in a roundup on Interstate 80 after a cattle hauler crashed.
Illinois State Police confirmed Wednesday morning, officials euthanized two of the cattle due to injuries. The driver of the cattle hauler has been charged with driving under the influence and has been issued citations for failure to reduce speed and improper lane usage, according to a news report.
The driver of the truckload of cattle hit another tractor-trailer and another vehicle on eastbound I-80 at about 3:30 p.m. Tuesday. The driver of the cattle truck is said to have suffered life-threatening injuries and was rushed to the hospital.
Part of I-80 was closed until after 9 p.m. Tuesday.
Cops in shootout with man trying to steal truck
Police in Garden City, Georgia exchanged gunfire with a man who authorities said tried to steal a truck.
The incident occurred earlier this week when they responded to a call of a man trying to steal a truck. A news report said the suspect found a handgun in the truck and used it to shoot at police. The cops returned fire and the man was eventually taken into custody.
Garden City is located about five miles from Savannah.
I-81 scene of another weather-related fatal accident
A North Carolina woman in an SUV was killed in a collision on Interstate 81 in Hagerstown, Maryland Monday, April 18.
Police say Brittany Mae Goodwin, 30, died and a dog in her vehicle was injured in the collision that involved four vehicles.
According to a news report, the crash occurred at the six mile marker when an SUV, a semi-truck, and a pickup truck were stopped in the left southbound lane for slowed traffic. An oncoming semi-truck struck the rear of the stopped pickup, pushing it into the SUV, which was pushed into the back of the stopped tractor-trailer.
Traffic was backed up for six hours as crews worked to investigate the wreck.
I-81 was the scene of a horrific multi-vehicle collision and fire in late March. Six people died in a series of collisions when the highway was obscured by a snow squall.
Pilot offers discount on cold brew coffee today
Pilot Flying J is celebrating National Cold Brew Day on April 20 with a new cold brew flavor, Toasted Coconut, and a deal for guests to enjoy a cup of all-natural cold brew for $1.
PFJ customers who download or open Pilot's myRewards Plus app on Wednesday, April 20, will find the one-time offer to redeem at more than 500 participating Pilot and Flying J travel centers.
"While you're fueling up, grab a cup of our refreshingly smooth cold brew for just $1 on National Cold Brew Day," said Jonathan Braatvedt, vice president of food and beverage for Pilot Flying J. "Our best coffee on the interstate is sure to put some 'spring' in your day, especially when pairing it with one of our tasty breakfast sandwiches or burritos."
ICYMI
Michigan continues rolling back Spring weight restrictions
Bill introduced to remove truckers' overtime exemption
ATHS offers program on first four-wheel-drive truck by Oshkosh
Trucker extinguishes car fire; recognized for his efforts
You Have To See This Truck