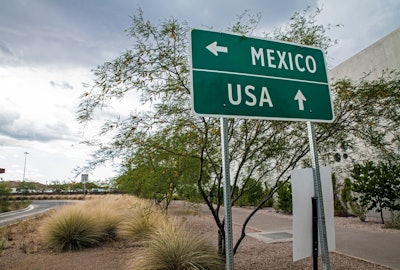 Texas Gov. Greg Abbott late last week reversed course on additional inspections of trucks entering the state from Mexico, a process that caused waits as long as 30 hours for some drivers.
The inspections were put in place by Abbott to curb entry into the country of drugs and illegal immigrants. Abbot, who is up for election in November, has made border security a key issue in his administration, and his continued criticism of President Joe Biden.
During the week the inspections were in place, state troopers reportedly inspected 6,000 trucks, placing many of them out of service for mechanical issues. Texas troopers are allowed to conduct only mechanical inspections, which must be done after vehicles have already passed through U.S. Customs and Border Protection inspection stations.
Abbott dropped the inspections after Mexican states agreed to increase enforcement.
Before reversing course on the inspections Abbott was criticized by the trucking industry's largest trade organization. American Trucking Associations President Chris Spear called the inspections "wholly flawed, redundant and adding considerable weight on an already strained supply chain."
Nominees sought for Overdrive's Small Fleet Championship
Nominations are now open for an awards program for small fleets presented by our sister publication Overdrive.
In 2020, Overdrive launched a competition to recognize owner-operators who've taken the big step of getting their own authority and growing beyond one truck, whether they're still driving or in full-time management. Since that topsy-turvy year, as freight markets have continued to adjust to COVID-19 pandemic disruptions, innovative small fleet owners have grown in numerous different ways, outstripping their large-fleet counterparts on that front. In short, there's never been a better time to build on the recognition delivered to deserving owners -- the Small Fleet Championship is back for 2022.
Kenworth receives clean energy award from Washington state
Kenworth received the first David and Patricia Giuliani Clean Energy Entrepreneur Award. The award was presented by Washington Governor Jay Inslee on behalf of Clean & Prosperous Washington during an event held recently at Climate Pledge Arena in Seattle.
The award is named for the late David Giuliani, founder of Clean & Prosperous Washington, and his spouse Patricia Giuliani. Clean & Prosperous Washington is a project of the Washington Business Alliance.
Kenworth was honored for its "Driving To Zero Emissions" program that features the Class 8 Kenworth T680E, Class 7 K370E and Class 6 K270E battery electric vehicles, along with Paccar Parts charging stations.
ICYMI
Michigan continues rolling back Spring weight restrictions
Pilot and its customers raise over $1 million to aid Ukraine's children, families
Roehl Transport's new pay plan increases driver compensation