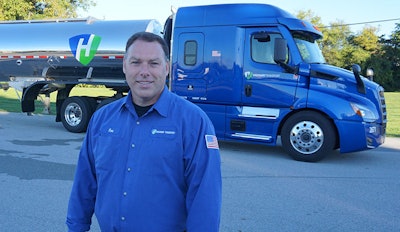 Highway Transport
A driver for Highway Transport Monday was named the winner of the 2021-2022 William A. Usher Tanker Driver of the Year Award.
Thomas Frain received his grand champion award during ceremonies at the National Tank Truck Carriers' annual conference at the Hilton San Diego Bayfront.
Frain has been in the trucking industry for over 30 years and in the tank truck industry for seven. For those seven years, he has been driving for Highway Transport in Knoxville, Tennessee where he resides. He's been a driver trainer for the past four years.
"Wow! I did not expect that," said Frain when accepting the honor. "To the talent that is on this stage, to the NTTC, judges, Great West Capital, and the Usher family…thank you for this distinct honor. This has been 30 years in the making, with the last seven being the most rewarding as a tank truck driver.
"There are too many people to thank, but first and foremost, many years ago, my mother-in-law gave me a medallion with angel wings, and on the medallion, it says, 'Never driver faster than your guardian angel can fly.' Every day, at the end of my pre-trip, I say a quick prayer, I say 'Protect my family. Guide me and keep me and those around me safe.'"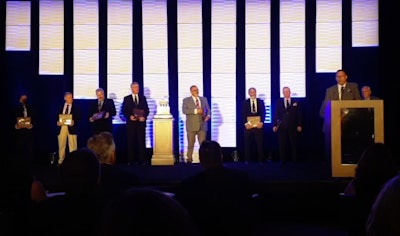 Also during his speech, Frain praised and thanked his wife Carol, and the wives of the other finalists, adding "they are the heroes."
He also thanked his coworkers and the company's owners: "(Highway Transport is) owned and operated by the Watkins family. Their dedication, devotion, and passion for the transportation industry is never-ending, and they are an inspiration. I'm blessed to be part of their team."
Frain also praised and thanked Marshall Franklin, the president and CFO of Highway Transport, as well the company's service center Manager Steven Hittinger and Vice President of Safety and Quality Rick Lusby.
The other 2021-2022 champion finalists were:
Robert Anderson Florida Rock & Tank Lines
James W. Ellis, Sr. Grammer Industries, Inc.
Dean Hansen Trimac Transportation
Richard "Jerry" Locke Kenan Advantage
Daniel SmithKenan Advantage
Demetrius Stewart Eagle Transport
Michael White Quality Carriers
Combined, the finalists have driven professionally for a total of 300 years.