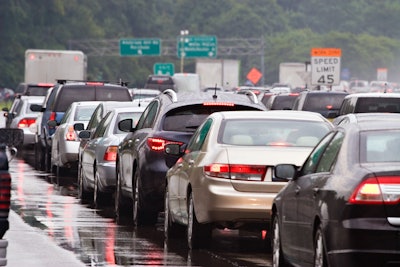 Despite eye-watering gas prices, the number of Americans expected to take to the highways this long Memorial Day weekend will increase to over pre-pandemic levels. At the same time, truckers ought to be aware that cargo thefts are also likely to spike.
The unofficial start to summer will be a busy one this year as AAA predicts 34.9 million people plan to travel by car, up 4.6% over last year. In all, AAA said 39.2 million people will travel 50 miles or more from home this Memorial Day weekend. This is an increase of 8.3% over 2021, bringing travel volumes almost in line with those in 2017. 
AAA research partner INRIX predicts drivers will encounter the longest travel delays before the holiday weekend, particularly during the afternoons on Thursday, May 26 and Friday, May 27. Drivers in major U.S. metro area could experience double the travel times compared to a normal trip.
AAA and INRIX say the worst and best times to travel this long weekend:
Thursday worst: 1 p.m. to 8 p.m. Best: before 6 a.m. or after 9 p.m.
Friday worst noon to 7 p.m.Best: before 7 a.m. or after 9 p.m.
Saturday worst: 1 p.m. to 6 p.m. Best: before 10 a.m.
Sunday worst:1 p.m. to 4 p.m. Best: before 10 a.m.
Monday worst: 1 to 4 p.m. Best: before 11 a.m.
"Memorial Day is always a good predictor of what's to come for summer travel," said Paula Twidale, senior vice president, AAA Travel. "Based on our projections, summer travel isn't just heating up, it will be on fire. People are overdue for a vacation and they are looking to catch up on some much-needed R&R in the coming months."
Be on the alert for possible cargo thefts
Organized cargo theft rings will be extremely active in the coming days, as more shipments are left unattended for extended periods of time due to the long holiday weekend. The Sensitech Supply Chain Intelligence Center has recorded average Memorial Day theft rates up to 57% higher and average values up to 44% higher than non-holiday weekends. Since 2017, Memorial Day weekends have seen an average theft value of $221,202 totaling in excess of $8.2M.
Sensitech recommends that logistics and security professionals ensure security protocols are up-to-date and in line with industry best practices for both in-transit and warehouse operations. To mitigate criminal attempts to exploit cargo at rest, Sensitech suggests confirming that a receiver's hours of operation for the holiday weekend are consistent with scheduled delivery times and planning for secure parking locations in the event a shipment will have to stop for an extended period of time. Covert GPS tracking and active monitoring of high-value shipments are highly recommended, as they have proven to be the most effective protocols to both mitigate in-transit theft and facilitate the successful recovery of stolen products.
In addition, the following guidelines are collectively endorsed by trucking and security organizatiuons, and Sensitech:
Steps should be taken to verify the authenticity of all shipment related activity during these periods – particularly any entity which has been engaged to either move or store a shipment. Driver and business verification, prior to releasing any shipment, is paramount.
Communication between drivers and shippers needs to be firmly established and regularly maintained during shipments over these periods. That communication should include driver(s) instruction as to what types of behavior are required and what is not permissible.
Truck stops, highway rest areas and distribution centers are frequent targets for cargo thieves — not only traditionally but more so over holiday periods. For that reason, any location where cargo would either intentionally (or unintentionally) come to rest — even for brief periods of time -- should be as secure as possible. Things to consider when selecting a secure area/lot are: controlled access, adequate lighting, congestion, any type of either personal or video surveillance, how long the conveyance will be left unattended, as well as past intelligence of localized cargo theft activity.
If a cargo conveyance must be left unattended for any period of time it should be made as secure as possible. Theft-resistant locking/sealing mechanisms for tractors, trailers and cargo compartments; disabling technology for the vehicle's power units or trailer movements; parking vehicles and/or cargo compartments in a fashion which make access as difficult as possible – are all things worthy of strong consideration.
If any tracking technology, such as GPS monitoring, that is available for deployment should be used to its fullest extent possible. That would include tracking technology on the conveyance's power unit, its cargo area (if separate), as well as within the cargo itself.